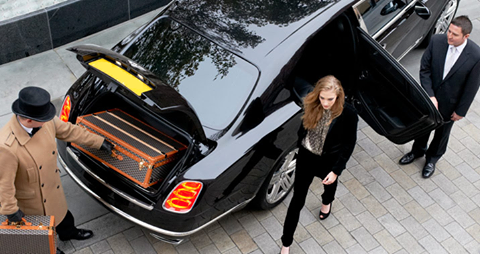 From pleasure to business, chauffeur driven cars Service provide a more enjoyable and luxurious experience for London visitors and residents. Rather than struggling to battle the jammed traffic in the UK capital or having to rely on potentially crowded and sometimes untrustworthy public transport, chauffeur London driven cars service (you can say it Transportive) enable you to sit back, relax, and unwind while seeing the incredible sights that London has to offer. A professional chauffeur also ensures that you reach your endpoint on time while answering questions and avoiding traffic black spots. There are many reasons to use chauffeur driven cars Service in London.
1) Airport Transfers
Heathrow and Gatwick are two of the world's busiest airports, servicing passengers from all around the world as well as residents of the incredible city. Using transportive chauffeur driven cars Service for airport transfers is convenient, surprisingly cost effective, and the ideal way to end a potentially uncomfortable and lengthy flight.
2) Wedding Transport
Mercedes C- class, Mercedes V- class, Mercedes S- class are exclusive for wedding transport. As well as using a single, luxurious Mercedes S- class to and from the church or another place, chauffeur driven cars in London are convenient and cost-effective ways to transport other guests of honor between the major venues on the big day.
3) Business and Corporate Use
London is also well known as one of the world's leading business and community event venues. Exhibitions, seminars, and meetings are held in hotels and exhibition centers throughout the capital and cars like the Mercedes E Class, S Class, and V Class provide the room and comfort that is required for traveling to these major events. Chauffeur driven cars in London are also perfect for use for corporate road shows and other similar events.
4) Roadshows, Shopping and Sightseeing
What better way could there be to see everything that London has to offer than being driven around in a luxury or standing car by a professional chauffeur? Whether you're visiting London to hit the major chain stores or boutiques, if you're visiting to see the monuments and landmarks that London is known for around the world, or going for roadshow then chauffeur driven cars service is the greatest possible solution.
5) Other Private Functions
As well as their use on a wedding day, executive chauffeur is also the perfect way to arrive at any private function. Whether you're the guests of honor at an anniversary party or one of the guests at a major birthday party, chauffeur driven cars allow you to arrive in style and make a lasting impression with all the guests. They are also the ideal complement to a big surprise event.
Thus, the Executive chauffeur driven car is an important part of your visit in the beautiful city of London. While visiting the city, you must make sure you hire a luxury chauffeur service for yourself to enjoy your stay and most importantly, to enjoy your travel in the city. From regular London chauffeurs to airport transport, wedding car hire, we provide the UK's most well-known chauffeur service in London.